Every show will receive a poster and music cd (pictured below).
Our exclusive "WILD ANIMAL SONGS" Compact Disc and Poster of the STARS of your show:
Songs include: Hey, Mr. Skunk! -- The Itchy, Outchy, Pokey, Spiney Porcupine -- Monkey Business -- Scorpion Friends -- He's an Alli-Alligator -- The Animal Stomp! -- Walking Through The Jungle (The Snake Song) -- Animals Are People, Too -- (plus instrumental bonus tracks). These songs were written and produced exclusively for Wild Animal World and Pangaea Productions, Inc.
Samples:
The Wild Safari Show will include your custom photographs from the show mailed back to you in our creative Wild Safari Photo Jackets and a free keychain with your best photo inside.
Free Lightup Keychain!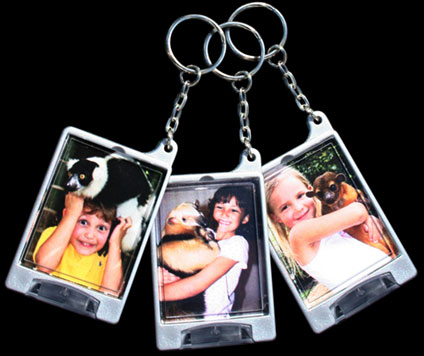 Our creative Wild Safari Photo Jackets:
The above are just a few samples of the variety of covers you receive on the photo jackets from the "Wild Safari" show. Each card is personalized with the Birthday Child's name on them and sent directly to you after photos are developed.


If you plan ahead, we make custom birthday and personalized event cards with envelopes for just $1 each. There is no minimum! Order 10 or 100. We will print and ship them to you immediately so you can send out your customized invitations. We add your order to your invoice and it is paid for when we collect for the show!