Every show will receive a poster and our promotional animal songs (pictured below).
Our exclusive "WILD ANIMAL SONGS" Compact Disc and Poster of the STARS of your show:
Songs include:
Mouse and Cat · The Day I Met a Crocodile · Be an Animal · Ant Power · Loyal as an Elephant · The Lion Champion · People Remind Me · Snake in the Grass · Watch Out for Weasels ·
Awesome Possum · Bird
PLUS a Bonus Music video for Be an Animal!
These songs were written and performed exclusively for Wild Animal World audiences.
Samples:
The Wild Safari Show will include your custom photographs from the show mailed back to you in our creative Wild Safari Photo Jackets and a free keychain with your best photo inside.
Free Lightup Keychain!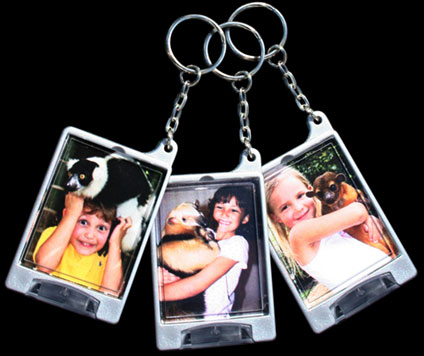 Our creative Wild Safari Photo Jackets:
The above are just a few samples of the variety of covers you receive on the photo jackets from the "Wild Safari" show. Each card is personalized with the Birthday Child's name on them and sent directly to you after photos are developed.