Always a huge hit with kids and adults alike!
We have three popular packages available:


*Includes : Miami, Aventura & Key Biscayne
Wildlife Show

$400 Dade / $450 *Dade Beaches / $450 Broward / $500 Palm Beach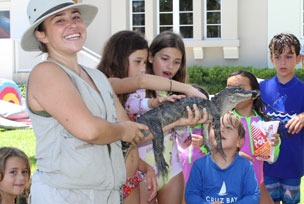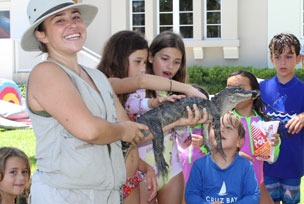 The wildlife show is about 45 minutes to one hour long and involves a variety of different animals and one trainer. Standard animals in the show are a scorpion, a giant toad, an alligator, a large python, a barn owl, a fennec fox, a porcupine, and anteater, a kinkajou (aka honeybear), and a ruffed lemur. (See Meet The Animals page for pictures of the animals).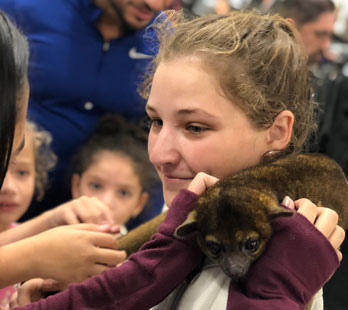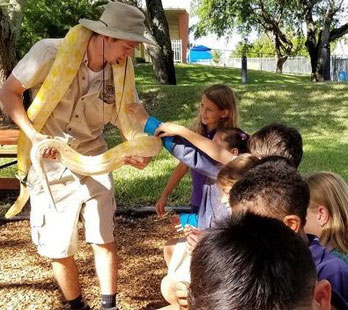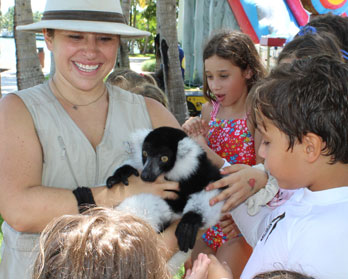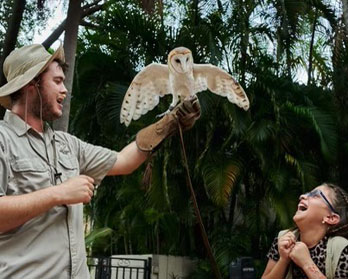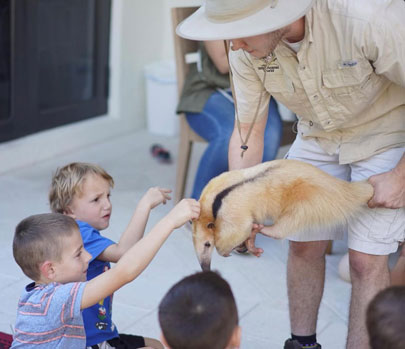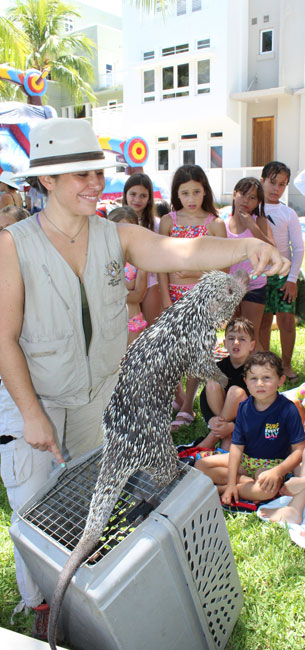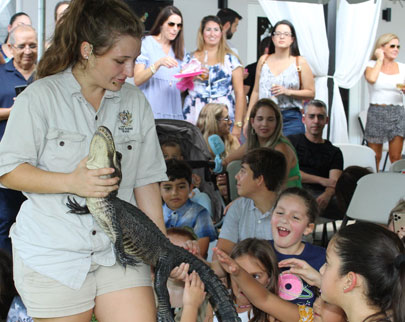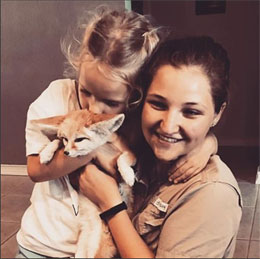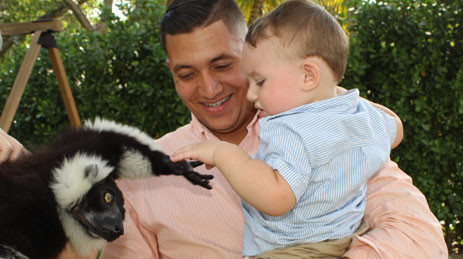 Back to Top
Wild Adventure Show

$500 Dade / $550 *Dade Beaches / $550 Broward / $600 Palm Beach
Wild Adventure Show
$500 Dade / $550 *Dade Beaches / $550 Broward / $600 Palm Beach
This is the wildlife show (above) with an added bonus: A vest with 'pocket animals'. Your child is called up at the beginning of the show to be a wildlife trainer and is asked to wear a khaki vest. What the child doesn't know is that the vest has many animals in the pockets and the trainer will start pulling them out and giving them to the child to hold or placing them on the child (animals like a ferret, gecko, toad, small snake, etc.). This is a great opportunity for a cute photo of the honored boy or girl. After this routine, the child will return to the audience and sit with friends until they are called up again to hold other animals. We strongly recommend your child be age 5 or older for this show. At the end of the show, your child will receive our exclusive Wild Animal World poster and our official Wild Animals of the World from A-Z coloring book.
(See our Souvenirs & Show Extras page to view the poster and coloring book)
. Our "Be an Animal" album is also available by request.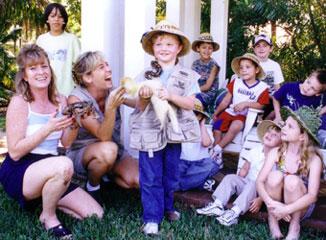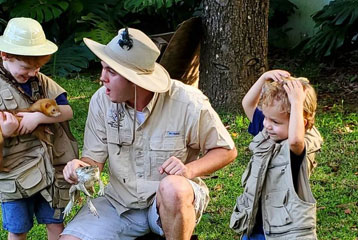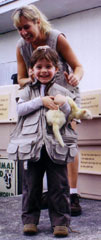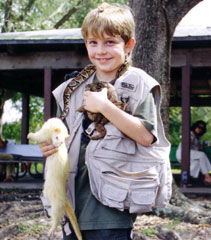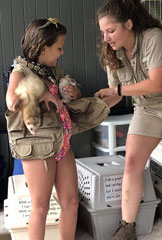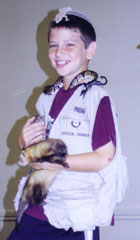 Back to Top
Digital Wild Safari Party
$800 Dade
$850 *Dade Beaches
$850 Broward
$900 Palm Beach

Printed Wild Safari Party
$850 Dade
$900 *Dade Beaches
$900 Broward
$950 Palm Beach
This show has everything: all the animals from the wildlife show, the vest routine, two trainers, 3 extra exclusive animals (parrot, otter and serval cat), plus a photo session afterwards with all the guests and selected animals. You have the option of your photos sent to you via Google Drive or keeping the camera card and editing and publishing the photos yourself.
For the Printed Wild Safari Party, you will get everything above plus we will print 4 x 6 glossy prints of each guest mailed to you in personalized cards with your child's name or your event on them and a random variety of animals on the cover. We can also print your event name and logo on the photo jackets, if preferred. In addition to your printed photos you receive a usb drive with all of the digital photos.
Scroll down for actual photos taken over the years at different "Wild Safari" parties:
Your personalized photo jackets come with random pictures of our very own "party animals" and your child's name and age personalized on the front:
Digital Wild Safari Party
$800 Dade
$850 *Dade Beaches
$850 Broward
$900 Palm Beach
---
Printed Wild Safari Party
$850 Dade
$900 *Dade Beaches
$900 Broward
$950 Palm Beach
A combination of everything, including 3 extra animals (parrot, otter, and serval cat), the 'vest routine', two trainers, our exclusive poster and coloring book, plus a photo session afterwards with all the guests and selected animals. You have the option of your photos sent to you via Google Drive or keeping the camera card and editing and publishing the photos yourself.
For the Printed Wild Safari Party, you will get everything above plus we will print 4 x 6 glossy prints of each guest mailed to you in personalized cards with your child's name or your event on them and a random variety of animals on the cover. Scroll to the bottom of the page for actual photos of the Wild Safari Photo Jackets. We can also print your event name and logo on the photo jackets, if preferred. All included in the 'Printed Wild Safari Party price'. In addition to your printed photos you receive a usb drive with all of the digital photos.
The photos below are actual photos taken over the years at different "Wild Safari" parties: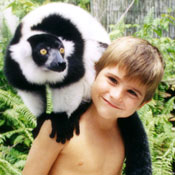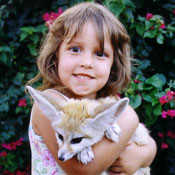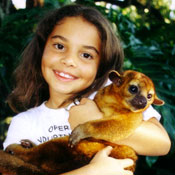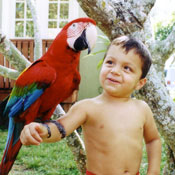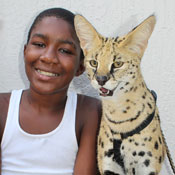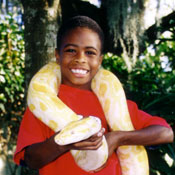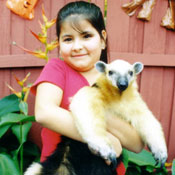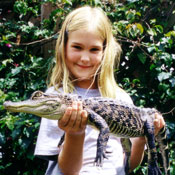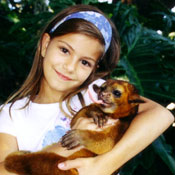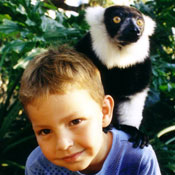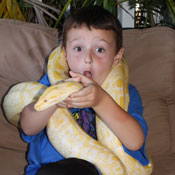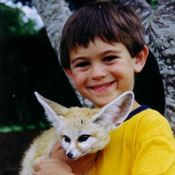 Your personalized photo jackets come with random pictures of our very own "party animals" and your child's name and age personalized on the front: